Pledge: Naughty Sorority Girls - Lesson of Passion Rel-2020-09-09 English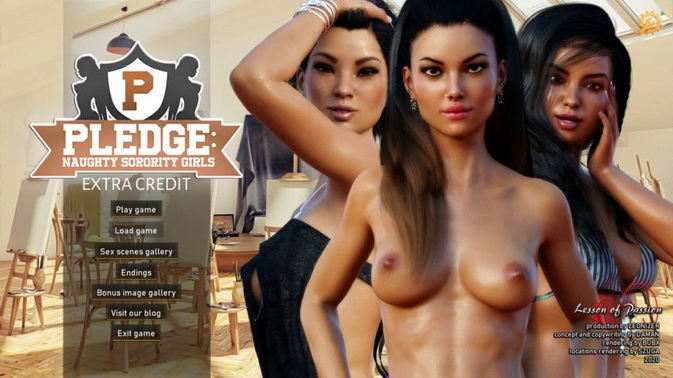 About This Game:
PLEDGE is a relationship simulator where you manage your time in order to not only boost your personal stats but also interact with other characters. You got 30 days to achieve your goals and it's up to you which path you'll choose. For instance, you may focus on your sweet boyfriend and spend all your time with him, getting access to spicy interactions with him or… try to discover something different and hang out with your female roommate and test if you're into girls. But that's only a beginning.
College, the realm of superior knowledge and the gateway to a better future for all the young men and women that pass through the hallowed institution. At least, that's what the brochure said. The reality is closer to a non-stop partying, drinking, fucking and whatever else those hyper-hormonized barely adults can wrap their tiny attention spans around.
Melissa was one said barely-adult college-goers. She was part of one of the biggest sororities on campus, which only meant one thing: she partied till the sun came up, drank like a fish, and had the wildest sex she could whenever she didin't black-out from near alcohol poisoning… which was most of the time.
This continued for her entire four-year tenancy on campus and Melissa soaked in every moment of it. But with her parents picking up the tab and seeing her grades dip lower and lower and with her not having even picked a major, they felt like enough was enough and, with one phone call, they laid out the ultimatum.
And there Melissa was: one semester left in her senior year on the the razor's edge of passing or failing and with no financial support of any kind from her folks. And something maybe even more crucial laid on the horizon: her duties as a Senior Sister from her sorority (not actually crucial… except that the sorority was her last lifeline after removing daddy deariest's wallet).
"As much as Rebecca and I have been known to go at each other's throats, it's Emma Grey's that I would like to slit. She and Rebecca are from the same rival sorority house and, if you thought Rebecca's psycho bitch impression was believable, then Emma is the actual inspiration for the façade. Heartless, cold and a true bitch by nature – the imitation pales before the original…"
Changelog: 2020-09-09 Steam Released
Release Date: 09-September-2020
Genre: 3DCG, Anal Sex, Animated, Spanking, Vaginal Sex, Voyeurism, BDSM, Big Ass, Big Tits, Bukkake, Cheating, Exhibitionism, Female Domination, Female Protagonist, Group Sex, Handjob, Interracial, Lesbian, Male Domination, Masturbation, Multi Penetration, Sex Toys
Censorship: None
Developer/Publisher: Lesson of Passion
Version: Final
OS: Windows x32 x64
Language: English
Size: 3.28 GB
---
DOWNLOAD - hotlink.cc
---
3DCG
,
anal sex
,
Animated
,
BDSM
,
Big ass
,
Big tits
,
Bukkake
,
Cheating
,
Exhibitionism
,
Female Domination
,
Female Protagonist
,
Group Sex
,
Handjob
,
Interracial
,
Lesbian
,
Male domination
,
Masturbation
,
Multi Penetration
,
Sex toys
,
Spanking
,
Vaginal Sex
,
Voyeur